Mai Chau - Guide di viaggio
General Information
Mai Chau is a district of Hoa Binh Province, a famous travel destination in northwestern Vietnam. 160 kilometers from Hanoi, the district is normally called Mai Chau Village for its highlights and is suitable for a short trekking and biking tours. Travelers are stunned by this town's mighty mountains, emerald rice fields and unique houses-on-stilts.
Spending a short cycling tour to Mai Chau is recommended when you want to escape from noisy and busy urban life. The destination is a perfect alternative if you do not have enough time for a Sapa excursion but still keen on experience a mountainous town and ethnic minority life.
Mai Chau Weather
Mai Chau is famous with mountainous environment, mountains, houses-on-stilts, rice fields… it is one of the best travel destinations in Northern Vietnam for trekking and biking tours.
Since Mai Chau is a mountainous area, the weather here is cool and pleasant year-round. It is neither too hot in summers nor chilly in winters. You can visit the destination any time in the year, but there are certain times that Mai Chau is the most poetic and romantic:
October to December: This is the winter time in Mai Chau, the weather becomes cooler and enjoyable. It is also the time when you can admire peach blossom and plum flower all around this town. The ethereal beauty of this flowery scene is a perfect background for your photos. However, it is humid and foggy there in winter, make sure you prepare warm clothing and be careful when hiking.
March to April: This is the time that 'ban' flower (Hoa Ban), a unique flower of Northwestern Vietnam, blooms all over the hills. This is also the time for many ethnic festivals here. March to April is the best time to travel to Mai Chau.
Weather in Mai Chau
Ethnic Minorities in Mai Chau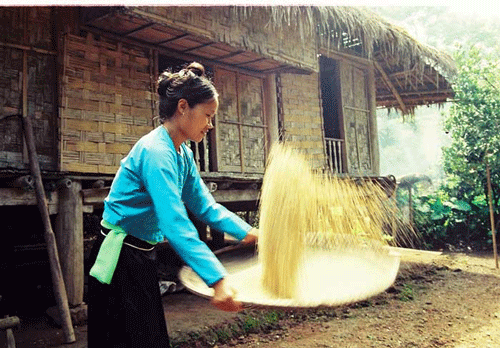 The villages are inhabited by seven ethnic groups: Thai, H'Mong, Dao, Muong, Tay, Hoa, and Viet, among which Thai people constitute the largest proportion of the population. The two tribes, White Thai and Black Thai, were originated in Thailand and are two main ethnic groups in Mai Chau at the moment. They live in stilt house and they are famous for making sophisticated traditional brocade. You can discover their life in Lac Village and Pom Coong Village, join their 'Xoe Dance' and learn their traditional plough-farming method.
Getting to Mai Chau
There are some options for daily tours to Mai Chau from Hanoi with both join-with-group and private tours. Travelers can visit the villages by car, mini-van or tourist bus in 1-day or 2-day daily tours from Hanoi. You can drive a motorbike yourselves to the villages, but we do not recommend it.
To book a Mai Chau tour, you can contact Paradise Travel few days in advance for the option you are interested in or you can also check with us at our office as flexible as 1 day before departure date.
By motorbike: Mai Chau can be accessed by road from Ha Noi. The journey takes around 5 hours. The recommended route to Tam Dao from Hanoi is Hanoi – Xuan Mai – Luong Son – Hoa Binh – Muong Khen – Mai Chau. The Highway No.6 out of Hanoi to Luong Son is the most convenient way. Take the Thang Long Highway out of Hanoi (28 km), turn left at the end of the highway for the crossroads at Xuan Mai (12 km) then head to Highway No.6 to Luong Son. Once you get to Hoa Binh, you can head straight from Doc Cun to Mai Chau. You can choose Highway No. 12B, but it will take more time and there are not many attractions along the road.
The roads are fairly good and offer stunning fresh scenery. Don't miss the stunning view at Thung Khe Pass!
By bus: You can take a bus to Mai Chau that directly drops off in town at My Dinh Bus Station (20 Pham Hung, My Dinh District, Hanoi). The buses depart at 06:00, 07:30, 14:00 and 14:30 and costs VND 80,000 dong. It takes around 4 hours to get to Mai Chau.
Another bus station where you can buy a bus ticket to Mai Chau is Yen Nghia Bus Station (Highway No.6, Ha Dong, Hanoi). The journey takes around 3 hours from Yen Nghia to Mai Chau. You can take a bus or taxi from Hanoi Old Quarter to Yen Nghia Bus Station. Here are the prices for your reference:
From Yen Nghia Bus Station (by direct bus): about 3 hours; VND 100,000 – 130,000 dong or more
From Hoa Binh City center: about 1.5 hours, VND 20,000 dong or more (all those prices would be changed when you get there, but not too much)
You can travel to Hoa Binh from Hanoi then go to Mai Chau. Buses to Hoa Binh depart from Hanoi every 15 minutes between 06:00 and 18:00 (VND 50,000 – 100,000 dong) and from Hoa Binh bus station there are regular buses to villages (VND 20,000 dong or more). Make sure that you tell the driver you are going to Mai Chau then the bus will drop off at the right place. The distance between Hoa Binh and the villages is 65 km.
Getting around Mai Chau
On foot: Mai Chau Valley can easily be explored on foot. You can find many clean footpaths here.
Xe Om (motorbike taxi): There are many xe om drivers in front of the market in the villages. Otherwise, you may hire a motorbike from a family and discover Mai Chau at your own pace.
By boat: Having a boat cruise on the Ma River is recommended. Be sure you know where you are heading to before setting out.
Where to Stay in Mai Chau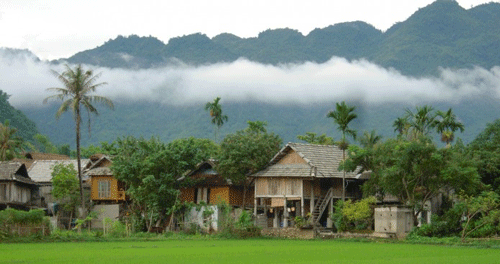 There are many home-stays and hotels in the town. Most of these accommodations meet tourists' expectation with good sanitary facilities, Wifi and hot water. Depending on your budget and expected experiences, you can choose an ethnic home-stay or a resort/hotel. Here are some high-quality accommodations in the villages:
Sol Bungalows (Chieng Chau Village): Surrounded by lush rice paddies, Sol Bungalows is a perfect place for relaxation. This bungalow features spacious rooms, modern facilities, authentic dining and well-trained staff.  Price: US $105 -138.
Mai Chau Villas (Cha Lang Valley, Mai Hich): Hidden in the misty mountains, Mai Chau Villas is a boutique that can accommodate up to 30 guests.  It features thatched-roof bungalows with air-conditioning and views overlooking the rice fields. Price: US $57 – 94.
Mai Chau Lodge: This accommodation brings you tranquil atmosphere and superior amenities. It offers hot tub, sauna, outdoor pool, massage, and garden for your comfortable stay in Mai Chau. Price: US $40 – 43.
Mai Chau Valley View Hotel: With impeccable services and excellent facilities, you can totally escape from busy and noisy urban life at this hotel. The hotel provides a restaurant, car park, airport transfers, and bicycles for rent. Price: US $29 – 39.
Mai Chau Ecolodge (Na Phon Village): This ecolodge offers beautiful rooms and suites with a balcony, seating area, and mini bar. It is relatively easy to transfer to other attractions such as Lac Village and Pom Coong Village from this hotel. Price: US $130 – 350.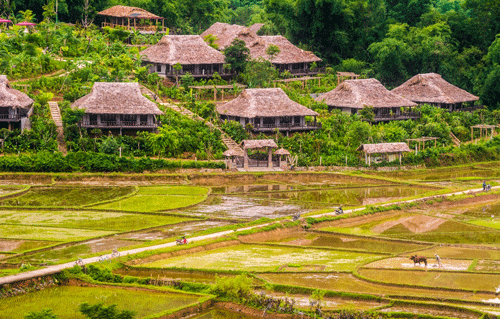 You can easily find a budget home-stay at US $5 -15. Other recommendations:
Address: Lac Village.
Phone Number: 0915 833572 – 0166 3245556.
Address: Lac Village.
Phone Number: 0974 604719.
Address: Lac Village.
Phone Number: 0932 541114.
Address: Lac Village.
Phone Number: 0966 072571.
Address: Lac Village.
Phone Number: 0914 838450.
Dia Chi: Tieu khu 4.
Phone Number: 0218 3867231.
Phone Number: 0218 3867262.
Address: No. 70, Tieu khu 2.
Phone Number: 0944 838454.
What to See in Mai Chau
Mai Chau is a rustic and atmospheric destination in a tour to Northern Vietnam. There are many things to see at this off-the-beaten-track destination.
Distance between attractions in Mai Chau
1. Lac Village and Pom Coong Village
Ethnic villages are must-visit attractions in your trip to Mai Chau. Not only do you have time to relax and cycle around emerald green rice paddies, you can also see how people work on the fields and interact with local people. Lac Village and Pom Coong Village are the home to White Thai people. The interesting feature of these villages is stilt houses which are lifted 3 meters from the ground to keep the family safe from wild animals.
Lac Village
Don't forget to attend a 'Xoe' dance performance here. Xoe dance has a long history around the year 1000 AD. It involves ethnic boys and girls from different villages dancing, holding hands and forming circles. This dance is a traditional activity in northwestern Vietnam which can be seen in many ethnic festivals.
2. Mo Luong Cave and Chieu Cave
Chieu Cave
If you love hiking and trekking, Mo Luong Cave and Chieu Cave are your two cannot-miss places. Discovering colorful caves in Mai Chau is an interesting activity and these caves attract many adventurous tourists to Mai Chau. The distance between these attractions is not far from the villages, so it is very convenient for you to visit.
3. Pa Co Market
Pa Co Market is a vibrant ethnic market in Mai Chau. It usually takes place on Sunday every week. Many local agricultural products and traditional brocade are sold here. Like other markets in Northern Vietnam, Pa Co Market is a cultural activity of ethnic people. They come to the market not only for exchanging goods but also making new friends and chatting with each other.
Related reading: 2 or 3 Days in Mai Chau
4. Pu Luong Nature Reserve
Pu Luong
If you have 3 days or more, consider Pu Luong to continue your cycling tour to our bucolic ethnic villages. 40 kilometers from Mai Chau, Pu Luong (Thanh Hoa Province) is a new tourist destination in Northern Vietnam that recently overtakes Sapa and Ha Giang on tourists' itinerary. It is well-known for golden rice fields during harvesting time and magnificent waterwheels which has become a popular image when people check in on Facebook and Instagram.
Read more: Top 6 Things to Do in Pu Luong
Things to Do in Mai Chau
Boat riding and rafting on Ma River
Cycling around ethnic villages and rice paddies
Taking an eco tour to Vietnam, stay in an ethnic house and watch how they work on their rice fields
Trekking and hiking
Visiting an ethnic market and discovering how local woman make traditional brocade
What to Eat in Mai Chau
Besides its natural beauty, Mai Chau is well-known for delicious local cuisines. Many resorts and lodges here offer excellent dining experience, however, if you want some authentic options, try home-cooked foods at ethnic home-stays.
Here are top 4 foods to try:
1. Steamed sticky rice in bamboo tubes (Com lam)
In Vietnam, Mai Chau is the town which grows the most delicious and high-quality rice with a sweet, light taste and a fragrant aroma. Com lam is a must-try cuisine when visiting this beautiful town.
Com lam
Before cooking the sticky rice, the rice must be soaked overnight or at least for 4 hours, just so it softens. Then, it is gently put inside the bamboo tubes. Do you know why the locals use coconut water when making Com Lam? It is quite simple because coconut water makes the rice softer and has a better smell.
Where to try Com Lam in Mai Chau?
Since Com Lam is the popular food in Mai Chau, you can try it in every restaurant, homestay and resort.
2. Man pork (lon man)
Pork seems to be a normal food we eat every day. However, in Mai Chau, the White Thai have a special kind of pig that could make an addictive food called 'Man' pork.
Pigs in Mai Chau are raised in nature, that's why their meat is juicier and contains less fat than normal pork. There are many methods to cook Man pork: boiling, grilling, making ground meat, etc.
Where to try Man pork in Mai Chau?
Mai Chau Stilt House: Stilt House No. 2, Lac Village
Hop Thuy Restaurant: Tieu khu 2
Binh Minh Restaurant: Lac Village Crossroad
You can try Man pork in other restaurants and home-stays in the villages as well.
3. Grilled pork
Eating grilled food in the cool weather in Mai Chau is the best thing to do in this world. With its special pigs, the destination offers you the most appealing grilled foods.
Grilled pork
The meat is carefully marinated with salt, chili powder, turmeric, lime leaves, ginger, citronella, and vinegar. Then, it is grilled in charcoal until it turns into yellow color.
Where to try Grilled pork in Mai Chau?
Lac Village and Pom Coong Village are best places to try Grilled pork and other local cuisines
4. Hill chicken (ga doi)
The reason why the chickens here are called 'hill chicken' is that they are raised in nature. They are allowed to run around the hills without being kept in the farm. Therefore, the hill chicken's meat is firmer and the fragrant is more attempting.
The locals either boil or grill hill chicken. The chicken is usually served with lemon leaves. Tourists often enjoy this food with some can wine to add more warmth to their bodies.
Where to try Hill chicken in Mai Chau?
In ethnic home-stays, where you can try chickens raised by the locals.
Moreover, there are more appetizing and bizarre foods you can enjoy in this town:
Xoi nep nuong (colorful steamed sticky rice)
Stir-fried bees with bamboo shoots
Sour meat
Bitter bamboo shoots
Grapefruit leaves roll
Grilled fish
Can wine